As the cold and gloomy days of winter drag on across much of the US, many dream of warm and sunny destinations and look forward to a spring break trip. While it's great that travel has resumed, with COVID-19 still prevalent, an extra layer of planning is advised. Give yourself plenty of time to research and decide what will work best for you and your traveling companions – and the world is still your oyster!
Here are a few things to consider to make sure your trip is a success:
Know where you're going. Look to local public health resources to understand the COVID case rates at your destination. Research the location's guidance and requirements for masking; testing before, upon arrival, and prior to returning home; quarantine; and vaccination so you can plan accordingly. Also, take into consideration that you may need a plan in case someone gets COVID. Many resorts make accommodations for travelers to quarantine if needed at the resort or arrange for private transportation at no additional cost to guests.
Flexibility and patience are key. While traveling has always required patience, unpredictable weather and today's staffing issues, reduced flights, rental car shortages, and full hotels require an extra dose, and a sense of humor will also help. COVID just adds an extra layer as cases continue to vary across the country and the globe. When booking any accommodation, recognize that your plans may need to change based on your destination's regulations or your own current health at the time of travel. Be sure to consider the cancellation or change fees for all your accommodations. Consider spending a little more for a refundable option. If you are booking with a credit card, check if the card offers travel insurance and how it could be applied. Some people have gone so far to book two fully refundable trips to separate locations for the same dates so that they could pick the safest destination closer to the date. This may seem extreme, but it allows for choosing the best option based on a better picture of the data as the trip nears.
Call it off if you aren't feeling well. While it's incredibly disappointing to cancel much anticipated plans, please follow CDC guidelines and avoid traveling if you have any symptoms of COVID-19. Consider bringing rapid tests with you in the event you or your companions start feeling ill. You may also want to know the locations of testing facilities near your destination in the event you have an onset of symptoms. Once you move into packing mode, be sure to pack enough masks for you and your companions for the activities you'll be engaging in. Whether flying or driving, put several in an easy to reach space so that you always have one handy when needed.
While it's understandable to be nervous in resuming travel, being flexible and taking the time to anticipate the unexpected will go a long way in helping you have a safe and fun trip!
---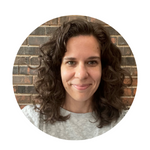 Christine Halpaus, a training specialist at Vitality, is a former K-6 educator. She earned her Masters in Teaching from George Mason University. Christine and her husband enjoy whatever time they can get outside whether kayaking in Lake Michigan, taking long walks in the sun or the snow with their three rescue dogs, enjoying the evening on a patio, or finding quiet in nature outside of Chicago.