Women are responsible for many of the world's most historic discoveries and inventions – from radiation cancer treatment, rocket fuel and Kevlar – to dishwashers, typewriters and windshield wipers. Development of these innovations is even more impressive given the historical challenges women have faced to be treated as equal and valuable members of society.
As we kick off Women's History Month, a designation to highlight the contributions of women to events in history and society, we asked Vitality members: What woman is the most influential in your life?
More than 10,000 of you responded! The results were as follows:
85% – Family, Friend, Neighbor
6% – Co-worker, Leader
3% – Counselor, Clergy, Teacher, Coach, Caregiver
1% – Public Figure
5% – Other
When we look at the women in our lives – how do we see them? Do we see them as mother, friend, sister, boss, doctor, partner, wife, daughter? Do we see them simply as these labels bestowed upon them as they relate to the positions we give them in our lives? Or do we really take the time to look at them with a different lens? A lens that illuminates them as untapped, deep wells of intelligence, creativity, empathy, strength, love, tenacity, drive – an individual force who provides value to the world around them?
Throughout March we celebrate the women known for their discoveries and inventions, and those who sacrificed and accomplished so much for the advancement of women's rights – the right to vote, get an education and provide for their families, and those who have achieved historic "firsts" – such as astronaut, senator, presidential candidate, Vice President of the United States, and CEO. We must also celebrate the women in our own lives who hold the same capacity for greatness, with many already doing extraordinary things for their families, friends, companies and communities.
I challenge each and every one of you to look at the women in your lives with this new lens. Your mom may be the woman who raised you, has a job, babysits your children now and then and has a few friends that keeps her busy and is there for you when you need to talk. What you may not know is she may also be a force in her community, driving change and improvement in everyone she meets. She may also need your support now and then, but likely will not ask.
Get to know the women in your life as individual people, ask them questions about their lives, interests, stories from their past, dreams for their futures. You will be surprised how much closer you will find yourself to them and how much more enriching your relationship becomes.
---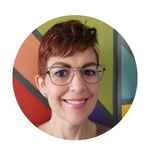 Melanie Roussell is Director, Client Relations and Agency Services and has been with Vitality for 8 years, with over 20 years in the employee benefits field. As a full-time remote Vitality employee in St. Petersburg, Florida, Melanie relocated from Chicago where she worked at Vitality's main office. When not working, Melanie spends her free time with family, friends, pets, many overly ambitious home projects, working with local animal rescues, and her pandemic-born obsession for mandala painting.