Vitality recently attended HEROForum22 in Amelia Island, FL, a conference hosted by the Health Enhancement Research Organization. This year's Forum was dedicated to advancing transformative ideas for improving the health choices we have, on the tension between individual and social responsibility for health, and the importance of putting diversity and inclusion at the forefront of solving for health inequities. Our own Chief Commercial Officer, Tanya Little, led a breakout session presentation and was joined by Jesse Gavin, Well-being Director, Baylor College of Medicine. The two presenters highlighted research and results on what it takes for employers to achieve equitable and inclusive health and wellness outcomes.
The conference sessions covered a wide range of topics, from the role that social determinants of health play in one's ability to achieve optimal health to the importance of providing organizational support for employees that truly addresses their needs. One of the most interesting sessions was focused on the outside-of-the-box approaches to workplace wellbeing, including the infusion of spirituality in the workplace. While many will likely recoil at the thought of discussing such a sensitive topic in the workplace, the panelists keenly pointed out that elements of spirituality – namely, purpose and meaning, connection and belonging, and connection to something bigger than yourself – align with what employees say they want next in the workplace, according to the latest trends in employee data. The panelists also pointed out the connection between one's purpose and one's physical and mental health, in particular how it pertains to the motivation to make healthy choices as well as the association between spirituality, resilience and mental health.
Another key theme of the conference was about what employers can do to help all of their employees achieve optimal health, not just those who are already healthy and motivated. The role of social determinants of health can't be ignored when discussing healthy lifestyles and the importance of prevention. And while we know there are key individual behaviors and biometrics needed to achieve optimal health – these are precisely what the Vitality program prioritizes – employers may underestimate the opportunity they have to influence employee health. Vitality recently published the 2022 Engagement White Paper, which provided a deep dive into what drives engagement and proposed strategies for employers and health plans to improve population engagement- specifically and importantly, inclusive engagement. The paper has a specific spotlight on engaging at-risk and high-risk members in their well-being.
It was inspiring to hear from leaders in the well-being space on how we can collectively work towards addressing health inequities and improving the health of our colleagues and our communities. HEROForum22 also reminded me how fortunate I am to work for an organization whose core purpose aligns with mine.
---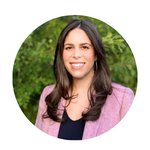 Lianne E. Jacobs, MPH, Health Communications Strategist, has a master's degree in public health from Yale University. She is the only indoor cycling instructor who can't ride a bike. She enjoys traveling the world, laughing at her own jokes, changing diapers, and tricking her husband into eating baked goods made with hidden vegetables.