Happy Pride Day! Pride Day is celebrated every June 28 to honor the 1969 Stonewall Uprising in Manhattan, which was the catalyst for liberating the LGBTQ+ community in the United States. Pride is a time to reflect on the adversity that the Lesbian, Gay, Bisexual, Transgender, and Queer (LGBTQ+) community has endured and to celebrate those who fought — and continue to fight — for full equality. It is also dedicated to the uplifting of LGBTQ+ voices, the celebration of LGBTQ+ culture and the support of LGBTQ+ rights. This June is the 52nd anniversary of the first Pride parade, which took place in 1970 – one year after the Stonewall Uprising.
Political activist, designer and flag-maker Gilbert Baker (1951-2017) created the Rainbow Flag in 1978 as a symbol of the LGBTQ+ movement. Originally designed with eight colors, the six-color variant was released in 1979 and popularized. Each color represents something significant:
Red – life
Orange – spirit / healing
Yellow – sunshine
Green – nature
Indigo – serenity
Violet – spirit
Diversity, Equity, and Inclusion is a key to our culture at Vitality, and it's important that our LGBTQ+ colleagues feel they belong. We aim to liberate the best in our people and create a culture where everyone is free to be their authentic selves while pursuing career goals, honing talents, and improving skills. We are committed to creating a safe and respectful space for our LGBTQ+ colleagues and communities, and we take pride in highlighting and emphasizing their contributions at Vitality.
---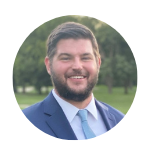 Brian is the Sr. HR Generalist for Vitality Group. Brian enjoys spending his time golfing, camping, or hanging out at the park with his dog Seamus.