One of the things we've missed most over the last year and a half are the rich in-person conversations and events with our key customers, partners and other stakeholders. We are thrilled to once again be traveling and participating in key industry events (with safety protocols in place, of course).
In October, be on the lookout for us in Las Vegas, Boston and Lisbon!
InsureTech Connect
We'll be at InsureTech Connect in Las Vegas. On Wednesday, October 6 from 2:00-2:50 pm Pacific, Anton Ossip, CEO, Discovery Insure will join Ryan McMahon, Vice President of Insurance and Government Affairs for Cambridge Mobile Telematics, and Dan Preston, CEO of Metromile, for a discussion on the future state of mobility.
HLTH
We then head to Boston for HLTH 2021, the nation's largest health innovation conference taking place from October 17-20 where we'll have Vitality execs speaking at two sessions.
The first event is part of the Women at HLTH program where Vitality SVP, Health Solutions, Jenny Carrillo will moderate the panel, Women & COVID: The Decline of Wellbeing and Implications for Recovery, on Sunday, October 17 from 9:30-10:20 am Eastern. On Monday, October 18 from 1:10-1:50 pm Eastern, Elizabeth Dunphy, SVP, Client Relations, is speaking on a panel, Benefits that Serve, as part of the Health Equity sessions.
In addition to our speaking engagements, we will have a digital booth and encourage everyone to stop in to visit.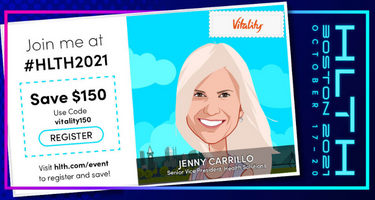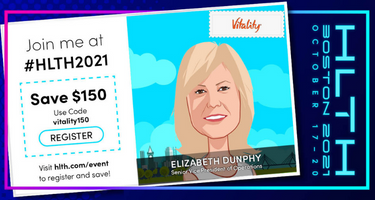 Garmin Health Summit 2021
Stephen Mitchley, Chief Strategy Officer, will be heading to Portugal for the Garmin Health Summit on October 28-29. He will be speaking on the topic of wearable devices as a facilitator of healthy futures. He will also be on the judging panel for the Garmin Health Awards.
If you happen to be at any of these events, we invite you to join our sessions in person or please visit the virtual exhibit halls to listen in remotely.