February 2022 marks the 46th annual observance of Black History Month. This celebratory period aims to highlight contributions to society from the African Diaspora, particularly those unsung or long forgotten. Black History Month was first officially recognized by former President Gerald Ford in 1976, although its inception predates to the early 1900s. In 1915, historian Carter Godwin Woodson and minister Jesse E. Moorland founded an organization for the purpose of researching and compiling achievements of Black people, known today as the Association for the Study of African American Life and History. This organization went on to establish Negro History Week in 1926 to publicize their findings; this period of remembrance is now commemorated for the entire month of February.
The month of February holds particular significance as Frederick Douglas observed his birthday on February 14th (official date unknown) and former President Abraham Lincoln was born on February 12th, 1809. Since both historical figures were heralded as being proponents of abolition and the overall advancement of Black people, Woodson believed utilizing dates already widely celebrated in the community would allow for "the public to extend their study of Black history, not to create a new tradition." He sought to engage Black civic leaders, high school teachers, clergymen, women's groups and fraternal associations in his project to improve the understanding of African-American history.
Over the years, Woodson's monumental significance has faded into obscurity, but in the spirit of celebrating our pioneers, a few of his accomplishments are listed below:
Obtained a bachelor's degree and master's degree from the University of Chicago
One of the first African Americans to earn a PhD from Harvard University
The only PhD-holder whose parents were former slaves
Became a professor and dean at Howard University, a historically black college

Due to racial disparities at that time, he wasn't allowed employment at any predominantly white intuitions of higher learning

Authored the Journal of Negro History

The first primer featuring Black history, a teacher's instructional tool for elementary and high school students

Established the Negro History Bulletin

Created to give Black scholars a place to publish their research and findings

U.S. Postal Service issued a stamp honoring Woodson
Carter Godwin Woodson is deservingly known as the "father of Black History Month" but was also an activist, author, and single-handedly carved out a new sub-genre of historical research. His passion was a spark, as it birthed a century of recognizing the accomplishments of Black people, their contributions and acknowledgement of their lived experiences. If you're interested in learning more, please check out the Center for Racial Justice in Education's Black History Month Guide for Educators and Families.
---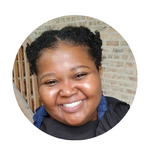 Jai Thomas is a Product Owner with Vitality Group, a proud UW Badger, and professional toddler wrangler. In her spare time, she likes to peruse bookstores and find new coffee shops. A researcher at heart, she always has random tidbits on hand.