Our research shows that when our members have access to the right personalized health recommendations at the right time, their engagement and health improve. To that end, we've announced Gateway, a program designed to integrate strategic partners across the broader health ecosystem to connect employees to meaningful resources that will improve their health.
We are pleased to collaborate with these seven leading health companies: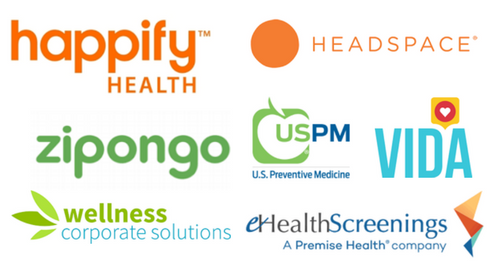 These offerings are supported by Vitality's proven expertise in behavioral science and incentive strategies to help employees overcome common decision errors. They are available through Vitality's dynamic digital platforms.
And we are already receiving rave reviews from clients!
"Vitality continues to demonstrate a commitment to innovation, which is important to us," said Kristyn Cantu, Total Rewards Manager, McCarthy Building Companies, Inc. "By recognizing the value of partnering with other companies, Vitality shows its commitment to its clients. Being able to incorporate the additional activities we offer our employees within the Vitality incentive structure is really a game changer."
In addition to the Gateway program, we've also added the following enhancements to our program for 2018:
Apple Watch Series 3 integration – Through the Vitality Active Rewards™ with Apple Watch program, clients can now take advantage of the most advanced technologies in a Watch — including cellular.
Vitality HealthyMind – As part of the continued commitment to improve mental health, this initiative is aimed at focusing on events that have a significant impact on one's mental well-being: sleep and mindfulness.
Financial Well–being – To drive awareness, educate and empower members to improve their financial health, Vitality is offering three new targeted goals: financial planning, reducing debt and building better budgets.
"We're encouraged to see employers continue to invest in the health of their workforce," said Vitality USA CEO Tal Gilbert. "They're building on their first generation wellness programs by broadening and deepening the interventions available. It's great to be working with some of the most innovative companies in the industry to help improve the health of millions of Americans in the workforce."