National Book Lovers Day, observed on August 9, is an unofficial holiday to encourage bibliophiles to celebrate reading and literature. Instead of scrolling on your smartphone on August 9, we encourage you to pick up a book and read! Below you'll find some tips to make reading a habit.
Get a library card! If you don't have a library card already, what are you waiting for? Not only does the library have countless hard copies of all the latest fiction and non-fiction, but they also have copies of e-books and audiobooks if you prefer to consume your literature digitally. Many libraries use the Libby or OverDrive apps that allow you to easily request eBooks and audiobooks and download them right to your device. Check your local library's website or stop in and talk with a librarian to learn more about how you can borrow eBooks and audiobooks. As a lifelong book lover, getting an e-reader and downloading the Libby app increased my reading significantly. Having an e-reader makes it a lot easier to sneak in a few pages as you wait for an appointment or finish a chapter on the train on your daily commute.
If you prefer to hold a physical book in your hands, another great way to find books is to locate your nearest Little Free Library- search for your closest location here. While you never know what you'll find in a Little Free Library, it's a fun way to discover new-to-you books, or even find that new release you've been eyeing! If you have a pile of finished books collecting dust on your nightstand, be sure to pay it forward and give back to your Little Free Library's collection.
Now that you know where to get your books, you'll need the motivation to get reading! One great way to stay motivated to read each month is by joining a book club. Start one with your friends, neighbors, or even colleagues. Vitality's book club has been going strong for over 5 years and in 2023 so far, members have collectively read 252 books and counting! My other book club (yes, I'm in two) has been getting together for 10 years and survived the pandemic with lots of Zoom meetings. If the idea of starting your own book club sounds daunting, you can search for existing book clubs in your local Facebook groups or even join celebrity or influencer book clubs. Oprah, Reese Witherspoon, and Jenna Bush Hager are just a few of the celebrities who have their own book clubs, but a quick online search will pull up dozens. Searching the hashtag #booktok on Instagram brings up over 3 million posts with book recommendations. Another way to find book recommendations and stay motivated is to use the Goodreads app. Not only can you track the books you read, but you can see what your friends are reading and create a yearly reading goal for yourself.
As Stephen King said, "Books are a uniquely portable magic." Hopefully, these tips gave you some ideas to bring that magic wherever you go. Happy reading!
---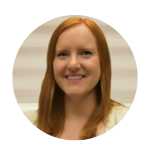 Janie Sullivan is a Scrum Master and has been at Vitality Group since 2016. She's been an avid reader since she was five and told her mom, "I feel like someone opened up my head and put a dictionary inside!". In her free time, Janie can be found chasing around her 2-year-old, completing the NYT crossword, or working on finishing books for one of her two book clubs.