Staying positive, having faith, leaning on friends and family and believing in yourself has gotten me through the tides of my life.
This theory was most recently tested when I went through an unexpected medical challenge. As a lifelong athlete and at the young age of 46, I had open heart surgery to repair a mitral valve flail that was causing Stage 4 regurgitation. In layman's terms – the most critical valve of the heart that pumps blood to the body and affects heart rhythm wasn't working properly with heart failure, A-Fib, perhaps a heart attack and other daunting heart problems probable. Shocking. Scary. High anxiety. Words are hard to qualify the emotions.
But through lots of positive thinking, faith, an amazing medical team, prayers and support from family, friends, co-workers and the community in which I live, I made it. The surgery was successful. The surgeon sewed several broken "heartstrings," the cords that secure the mitral valve. Doctors had no explanation as to why they were torn and placed a Teflon ring around my valve to keep it from flailing. Even with all its warts, it's amazing what our healthcare system can do.
I've been active and a champion of health my whole life, starting with running on the track and field and cross country teams (among other sports) in junior high and carrying that on through adulthood, finishing countless 5K, 10K, half-marathon, road and trail hikes and races over the years. I earned a BS in health education and an MPH in health promotion and have worked in the health and wellness space for more than 25 years, focused primarily on health promotion and health behavior change, decreasing cardiovascular disease risk for populations and individuals. I even reported to a cardiologist and led a lipid control heart health management team at one point.
Given my lifestyle and lifelong activity levels, I never expected to have a heart problem or open-heart surgery – especially in my 40s and with many of the women in my family living into their 90s. I didn't have time to be down; I had a five-year-old and a husband whose work commute is well over 60 miles each way. We both literally just started new jobs after several years of searching for the right fit (and I might add, my employer was amazing when I found out I needed surgery only two weeks on the job – working for them has been a blessing). I worked through the anxiety with family, friends and co-workers by my side and stayed positive. When a heavy foreboding thought entered my mind, I immediately consciously focused on something pleasant or distracting; I couldn't allow those thoughts – it was the only choice.
The surgeon advised, "you'll be back to work in six-to-eight weeks, but full recovery will take a year." A year? And they weren't kidding. It's been a year of challenges in recovering and getting fit – three steps forward and two steps back – illness, heart rhythm (SVT), blood pressure, medication and scheduling issues, etc., but I've made it! I can do daily activities and then some. I've accepted that perhaps I won't run a brutally fun trail trek or a runners-high invoking long-distance road race ever again but I will keep trying.
I averaged 6,300 steps a day during our recent companywide Step into Summer challenge, including dozens of stair trips – and I made it past 10,000 steps for the first time since surgery. I also hiked my favorite (easy) trail (a one-mile hike with a moderately steep hill down to a creek and back up) for the first time since the surgery. While I rested often and couldn't get my heart rate to come below 105 until I got home, I did it. And the next day, I wasn't exhausted, which is a huge accomplishment. (To offer perspective, immediately after surgery, it took several weeks to achieve two five-minute walking sessions in the halls of my home and the ability to go up a set of stairs two times a day. On a strong dose of medicine, my resting heart rate was in the low 90s.)
But I will never give up and will always stay positive. After all, it is my only choice.
All in all, I've worked hard at keeping positive, having patience and exercising. I've learned to stop comparing my new self to my old self who could take a month or so off and still go out and jog five-plus miles, take a hilly hour-long walk, hike a varied terrain trail, golf 18 holes while carrying my bag, whatever came my way. Indeed, my patience has been tried.
But, I continue to reach for my goal to be my-kind-of-fit again, no matter how many setbacks. I'm also hopeful my heart rhythm issue resolves, have high hopes of being medication-free and able to hike as I please. But I will never give up and will always stay positive. After all, it is my only choice.
---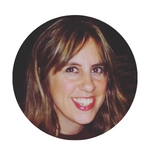 Tonja Dodd, MPH, is a Senior Health Strategy Analyst at Vitality Group where she translates clinical guidelines into risk appropriate health promotion strategies to engage members in healthy behaviors. Her background is in public health with 25 years of experience designing, developing and delivering health and wellness programs and products. Tonja finds her healthy place is being active outdoors and spending time with family, friends and pets.