As the weather continues to warm and the calendar inches towards summer, many people begin planning activities to have fun and stay comfortable – water activities! Kids sign up for swim team, families plan beach or lake trips, or go to the local pool for an afternoon. These are all great activities to keep moving and stay comfortable throughout the summer. However, in doing so it's important that people keep in mind the importance of water safety.
Spending time near or in the water should be fun, and to keep it that way, we offer these recommendations:
Know your risk. Whether you're going to your neighborhood pool or hanging out at a beach, make sure to assess the risk. How strong are your swimming skills? Is there a lifeguard on duty? If there are children in your group, what are their swimming abilities and how will you maintain their safety? It's important not to put yourself in a situation above your skill-level. Consider wearing a life jacket in moving water like a river or if a lifeguard is not present. If possible, consider getting certified in CPR and first aid in case there is an accident (and for Vitality points!).
Know your ability. If your swimming skills could be improved, look for swim classes. They are offered in many areas for people of all ages from six months to adults. Smaller classes can be tailored to your specific needs. If you have young children, consider a parent and me class so that you learn language to help your child gain their water confidence while bonding. As children grow, lessons or a chance to participate on a swim team can increase their ability while providing positive water experience and interactions.
Prepare for open water. Swimming in open bodies of water (rivers, lakes, oceans) can be exciting but also comes with its own set of risks. Look for signage or flags to determine the safety of the water. If the river is high or there is potential for rip tides, most public access points will be sure to notify swimmers of the risk. It's always best to avoid swimming in these situations. If you're going to a body of water where a rip tide could be present, review how to swim out of a rip tide in case one springs up while you're having fun. Always be sure to jump in feet first to water that you cannot see the bottom. If a large object is floating beneath the surface or the water isn't as deep as you expect, you can save yourself from grave injury.
Be patient after storms. In many places where the temperature is ideal for swimming outdoors, the weather is also ideal for storms. Whenever thunder or lightning is present, immediately leave the water and wait until after the storm has passed before resuming your activity. Energy from lightning travels quickly through water and is best to be avoided at all costs. If you pack a deck of cards, travel games or a good book, this time away from the water can still be fun!
Water activities are a great way to spend your summer and gain Vitality points. Whether you're out there for exercise or to just cool off, make sure to stay safe and have fun!
---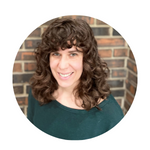 Christine Halpaus, a training specialist at Vitality, is a former K-6 educator. She earned her Masters in Teaching from George Mason University. Christine and her husband enjoy whatever time they can get outside whether kayaking in Lake Michigan, taking long walks in the sun or the snow with their three rescue dogs, enjoying the evening on a patio, or finding quiet in nature outside of Chicago.