Did you know that the Vitality program is built on 20+ years of helping 4 million members worldwide attain better health? Our mission is global: help make people healthier and enhance and protect their lives. People are engaged in Vitality in 15 markets across the world, including Canada, the United Kingdom, France, Germany, Italy, South Africa, China, Singapore, Australia and Japan, and we plan to launch in an additional 10 markets over the next two years.
The timing couldn't be more important. According to the World Health Organization, "Chronic diseases, such as heart disease, stroke, cancer, chronic respiratory diseases and diabetes, are by far the leading cause of mortality in the world, representing 60 percent of all deaths." Poor health is a worldwide epidemic.
In the U.K., that figure is even higher— chronic diseases are projected to account for 85 percent of all deaths. Our counterparts in the U.K. are working hard to change these outcomes and have had a lot of success by incentivizing physical activity. They recently produced an infographic showcasing the results of a study of their member population. Here are some insights:
Physically active people are 11 percent less likely to suffer from work-related musculosketal conditions.
Users of wearable devices are twice as likely to maintain usage over the course of a year if this is tied to an incentive.
People do 19 percent more physical activity in the spring than in the winter.
Incentivizing weekly exercise can result in a third of sedentary people starting to exercise.
People doing a healthy amount of exercise are 24 percent less likely to be stressed than those doing no exercise.
People who start exercising are three times more likely to improve their diets.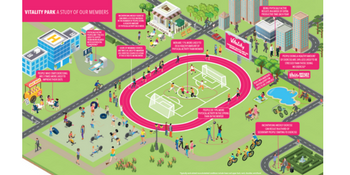 For more results, check out the full infographic.
Would you like inspiration to exercise more?
Olympic gold medalist Dame Jessica Ennis-Hill
joins the U.K. Vitality Healthy Workplace team in studio
to talk about how she's inspiring people to exercise more and why encouraging physical activity at work can lead to a more healthy, happy and productive staff.