The 2022 flu season is expected to be worse than in recent years. Not only are there concerns that a COVID surge is expected this winter, but the Southern Hemisphere's recent flu season – one of the worst flu seasons in recent years – likely foreshadows what the U.S. will be facing in the coming months. Particularly concerning is the fact that many of the preventive behaviors people had taken to protect themselves from COVID, such as wearing masks, staying socially distant, and not traveling, which also led to low rates of transmission of the flu over the past two years, have all but been eliminated.
Particularly at risk are older adults, who are at higher risk of developing serious complications from the flu, and young children, many of whom were born during the pandemic and who have had limited exposure to viruses during the past few years. Like COVID, older adults remain at high risk. Unlike COVID, the flu typically results in the worst outcomes for children, especially those younger than 2 years old.
Now is the time to get your flu shot. The CDC recommends that everyone 6 months of age and older get an annual flu shot, as we know getting vaccinated is the best way to protect against the flu. Experts believe this year's flu shot will provide strong protection against the strain of the flu currently circulating, giving us all the more reason to make sure we're vaccinated. However, with anti-vaccine sentiment at an all-time high and less than 50% of Americans planning to get the flu shot this season, it's critical that you take prevention into your own hands. Get vaccinated – and don't forget about other important behaviors like washing your hands, staying home when sick, and wearing masks when in public.
At Vitality, we're focused on making people healthier and protecting and enhancing their lives. Protect your health by getting your flu shot and earn Vitality Points for doing so!
---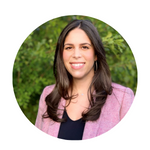 Lianne E. Jacobs, MPH, Health Communications Strategist, has a master's degree in public health from Yale University. She is the only indoor cycling instructor who can't ride a bike. She enjoys traveling the world, laughing at her own jokes, changing diapers, and tricking her husband into eating baked goods made with hidden vegetables.