Diabetes is a disorder that causes blood glucose levels to rise higher than normal. The most common form of diabetes is Type 2, or non-insulin dependent diabetes. With this disease, your body does not use insulin properly, causing insulin resistance. Over time, insulin resistance decreases your body's ability to keep its blood glucose (sugar) at normal levels.
Risk factors for Type 2 diabetes include family history and poor health behaviors, such as increased weight, poor nutrition, decreased physical activity, and high blood pressure (if you are concerned, you can take a Type 2 Diabetes Risk Test and should consult a physician). However, there are a few things you can do to combat these risk factors.
Nutrition plays a key role in health. In the context of diabetes prevention, the recommendation is to increase foods with a low glycemic index (GI)* in our diets to regulate blood sugar levels. But did you know that regular physical activity can also greatly reduce your risk for developing Type 2 diabetes?
Exercise keeps off excess weight, lowers blood sugar, and increases sensitivity to insulin, allowing cells to more efficiently remove glucose from the bloodstream. A longitudinal analysis of nearly 6,000 men in the United States found that for each 500 calories burned per week during moderate to high intensity exercise (walking, stair climbing, biking, and other sports), the risk of developing Type 2 diabetes decreased by 6%.
One such network that promotes physical activity as chronic disease prevention is Agita Mundo. They planned the World Day for Physical Activity in association with the World Health Organization (WHO).
Taking place tomorrow on April 6, the goals of World Day for Physical Activity include:
reducing the rate of sedentary lifestyles,
promoting active lifestyles throughout the population – further reinforced by the American Heart Association's National Walking Day "Lace up & Go" campaign,
raising public awareness on the importance of activity as a way to prevent chronic disease, and
creatinenvironments that promote community physical activity.
What will you do to increase your physical activity and reduce your risk of diabetes on April 6?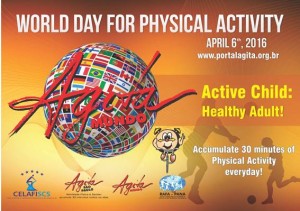 *The GI measures how a carbohydrate-containing food raises blood sugar, in comparison to a reference food such as white bread. Examples of carbohydrate-containing foods with a low GI kidney beans and lentils, sweet potatoes, most fruit, and many whole grain breads and cereals like barley, whole wheat bread, rye bread, and all-bran cereal.
Thumbnail image credit: Technogym