Over the month of July the Vitality Institute challenged you to use the power of the selfie to inspire healthy behaviors in yourself and your social network. We received hundreds of submissions from people all around the world, portraying a wide range of activities and locations around the connected themes of health, well-being and fitness.
We are excited to announce the winning submission, by Brian Khang Le, below: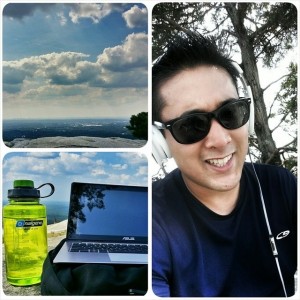 Brian discussed his winning submission, saying, "Ever since losing 85lbs and becoming addicted to running/exercise, I have been trying to continually promote healthy living to others. I went from a Biochemistry degree from UCLA to getting an MPH in Policy at Emory University in hopes of furthering active lifestyles and combating metabolic disease. A few times a week I go up Stone Mountain and do work or just stare off into the horizon – it helps me collect my thoughts and form solutions to existing problems. Much better than a coffee shop."
You can view our favorite photos on our Instagram @vitalityinst.
We would like to thank everyone that submitted to the challenge. Keep your cameras ready during healthy activities and continue to spread the health. We will be relaunching this campaign over the next few days, so stay tuned for details on the next phase of the #HealthySelfie challenge.