"First it is an intention. Then a behavior. Then a habit. Then a practice. Then a second nature. Then it is simply who you are." -Brendon Burchard
At Vitality, we don't just talk the talk when it comes to healthy habit formation – we walk the walk too! I recently chatted with a few Vitality employees who shared their stories of habit formation. Let their creative examples inspire you to check in on your habits!
Peak Poses for Peak Performance
"I started doing yoga more seriously in 2016 after previously dabbling sporadically. I initially started with the goal to do a little bit every day to help with anxiety and stress. I noticed that a lot of social media accounts that focus on Yoga specifically were doing fun challenges each month, with a focus on achieving "peak" Asana poses. The Sirsasana pose just happened to be a peak pose that I obtained rather quickly (to my delight and surprise!). This daily pose has since been part of my practice since 2016. Achieving that pose was inspirational for me and doing Yoga Asana regularly really helped me to appreciate that my body was capable of so much more than I thought! I still have so many goals for peak poses that I want to achieve, like Svarga Dvidasanas (aka Bird of Paradise). Having goals helps me to be more consistent in my practice while also making it fun."
-Nia, Human Resources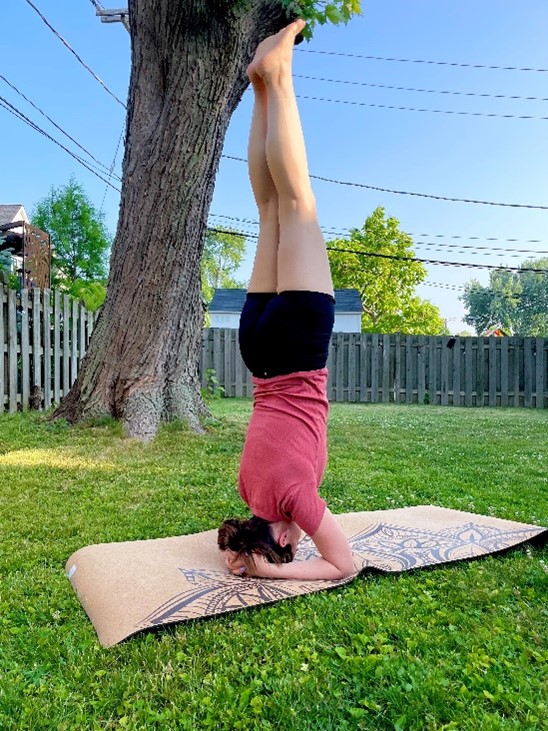 Running Towards the Goal
"I have been a runner since age 12, but prior to 2021 I felt like I was falling out of the habit and not running as often as I'd like. I set a goal to try and run at least a mile every day for 2021. I originally did not intend for it to last any longer than 365 days. However, I'm currently at 908 and counting!
I also did not intend for it to be more than just a fun physical challenge, but it did become so much more than that. There are really three huge lessons I've learned.
First, it has reminded me so often that just getting started is often the hardest part. Early on in my streak we had some very cold, snowy days in Chicago. I had thoughts, "Oh, I don't want to go outside and do this." But to my surprise, it was never as bad as it seemed! In fact, the worst weather days actually fuel me now. It's another obstacle that can't stop me – I just need to make a plan and execute. I get a lot of positive energy from the challenge. It also reminds me when I'm faced with any task, at work or in my personal life to stop worrying and just give it my best shot. Worrying doesn't get me anywhere but simply putting one foot in front of the other and taking that first step does.
Second, the importance of taking care of our bodies. The biggest challenge to my streak has never been will, but rather injuries. We only have one body, and we must do all we can to protect our physical health – without it, we are powerless. It is critical. On days when I'm not feeling my best this really hits home. But I find it important to show up, get through it, and hope tomorrow is a better day.
And finally, the power of habit. I don't waste any time deciding whether or not I am going to run each day – I already know that I am. I just have to figure out when and where to go. Commitment makes everything immensely easier.
Lastly, a quote that has stuck with me since high school. As far as I know, its origins are unknown."
"The race goes not always to the swift, but to those who keep on running."
-Daniel, Analytics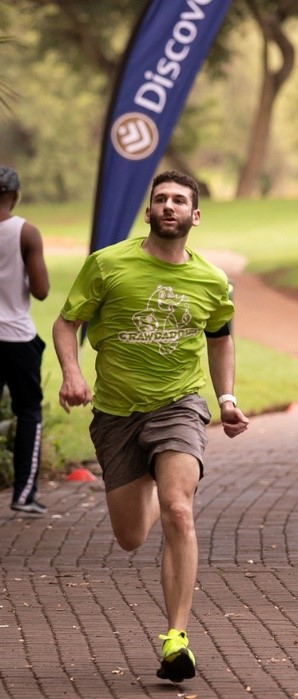 Getting Up from the Desk and Getting Up the Heartrate
As someone who is physically active to start my day, I find that as my workday goes on, I sit in my office chair for long stretches of time – admittedly not always having the best posture. I do understand the value of briefly getting up and moving or stretching, but sometimes that falls by the wayside.
A few months back, I challenged myself to complete fifty air squats and twenty pull-ups on a daily basis in an effort to get out of my chair, change my scenery and provide an opportunity to strengthen both my upper and lower body. It started with a goal of aiming to complete this every day for thirty days. Each day this started to become ingrained into my day – get out of my work chair, do ten air squats, then five pull-ups back and forth until I hit a total of fifty air squats and twenty pull-ups. It has given me a sense of accomplishment, stress relief and a chance to do something that will improve my overall health on a daily basis. It is that brief period of time each day that I look forward to in order to make sure that my streak continues. I am currently on day 105. So, what went from a little experiment to see if I could get through thirty days has now become a part of my daily routine!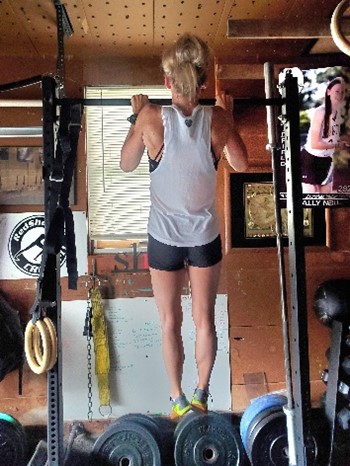 -Janine, Client Relations
Want more information on creating your own healthy daily habits? Whether you're interested in taking more steps throughout your day or incorporating more servings of fruits and vegetables into your diet, drinking more water or logging more hours of sleep each night – check out Vitality's Healthy Habit Hacks blog series for tips and inspiration on how you too can make this a practice in your own daily life.
---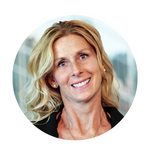 Janine is an Implementation Manager with Vitality. She holds a B.S. in Exercise Science/Sport Management from Rutgers University, as well as many certifications within the fitness and nutrition industry. She loves being a spectator/photographer at her daughters' athletic events, writing on sticky notes, over-consuming nut butters, shiny lip gloss, taking hot yoga classes and competing in triathlons. For relaxation, she enjoys baking, taking naps in hammocks, and listening to podcasts.