"Whenever you have a large number of people who are dying for preventable reasons, that constitutes a public health issue… That's not news to anybody that has ever worked in a hospital." – Surgeon General Vivek Murphy (2015)
Over 32,000 people in the United States (US) are expected to die this year due to gun violence (29.7 for every 100,000 people); more than in any other country in the world. Our Canadian neighbors pale in comparison, with only 5.1 deaths per 100,000; and Germany, England, and Wales with less than 2.5 deaths per 100,000. Even though Americans only comprise 4.4% of the global population, guns registered make up almost 45% of the global tally, translating into one gun for almost every person in the US.
Gun violence is largely preventable. Guns are one of the few consumer products manufactured in the US that are not subject to federal regulations for health and safety. In other countries, regulation has led to widespread benefits.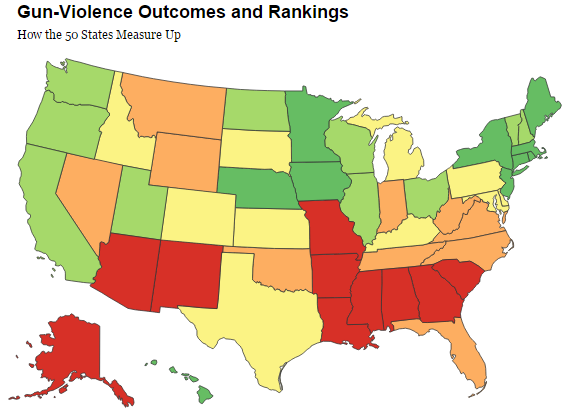 One leading example is Australia. In 1996 mass shooting of 35 people in Tasmania prompted the government – led by former Prime Minister John Howard – to introduce strict gun laws. This included the buyback of more than 600,000 semi-automatic shotguns and rifles, the introduction of laws prohibiting private sales of guns, and the requirement that all weapons be registered to their owner. In the decade prior to the 1996 event, there had been 11 mass shootings. Since 1996, the country has not had a similar incident. Homicides by firearms additionally declined by 59% between 1995 and 2006, and the drop in gun suicide dropped by 65%. The US should be implementing similar regulations – which have been shown to work in other countries like the UK, Finland, and Norway.
The public discourse perpetuates the stereotype that those who suffer from a mental disorder are dangerous and violent. However, this is largely untrue, and merely contributes to stigma against an already marginalized community. In fact, those who suffer from a mental health condition are more likely to be victims of violence, rather than perpetrators. In one study, researchers gathered information on 4,480 mentally ill adults who had answered surveys on committing violence and being victims of violence. Results suggested less than 1/4 of participants had committed a violent act within the past six months, with victims of violence eleven times more likely to commit violence.
Research from the Center for America Progress shows that young people in their 20s and 30s are most directly impacted by gun violence, including homicides, suicides, mass shootings, and daily firearm accidents (the latest one just earlier this week involving an 8 and 11 year old). It has been shown that children exposed to gun violence experience increased levels of insomnia, depression, anxiety, and post-traumatic stress. Not surprisingly, such events impact the level of trust in the community and are a threat to overall development.
Gun control is a public health and safety issue. We do not question the efficacy of seatbelts, which since their introduction in the mid-70s have saved over 250,000 lives. So let us apply harm reduction principles to gun violence and start implementing the necessary changes – from laws to smart technologies, education, a shift in social norms, among others – to promote a healthy and productive America.