As a teenager, I could have sat inside all day, watching television or reading. In my twenties, I embraced the concrete jungle of New York City, not spending much time in its lovely greenways. But in 2015, wanting to try something new, I joined a trail running group and began to enjoy weekends in local parks, trotting past spring ferns, early summer dogwood blooms, fiery autumn canopies, and even ice patches and snow fields in winter. My soundtrack was the birdsong of the early morning. I loved it. This became my meditation. Fellow runners became my tribe. And I was hooked.
In March 2020, when the world was forced to isolate and social distancing became essential to our safety, running outdoors seemed safe. Surely mother nature would afford some protection against the virus with her perfectly ventilated trails? I kept running, and I thought of the thousands of people who were confined indoors, without access to safe outdoor spaces. One day I took a photo of a particularly lovely view and posted it to social media with the words "Here is a ten second meditation for anyone who needs it." As it turns out, people did. The response was overwhelming – notes of appreciation, requests for more photos, for videos. Even when the lockdown abated, I kept posting, and people kept responding that these views provided the most peaceful moments of their day. I'm so grateful for this opportunity to connect to nature and other people. I'm thankful these landscapes and other images have provided a bit of calm and mental relief during such a crazy difficult time.
Studies show that less than an hour spent looking at nature can lower blood pressure, reduce cortisol, and improve mental calm and alertness. "Forest bathing" is the term used for this lovely practice of connecting with natural flora, and it is increasingly accepted as a type of mindfulness practice.
Whether you look at a photo, gaze out a window, or actually head out on a trail, you will find that time spent with nature is a peaceful respite. In celebration of Nature Photography Day, step outside today and enjoy your surroundings!
---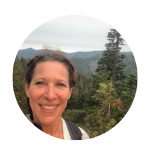 Claudia Kraut, Vice President, U.S. Consultant Relations, has spent 20+ years driving growth in health plans and health technology. Claudia believes in eating Real Food and finding exercise that excites you. She's a frequent ultra-marathon runner, an obstacle race enthusiast, and has earned seven belts in Muay Thai. Confident in the healing properties of the arts, she has also performed in local musical theater and a classic rock cover band. Claudia enjoys time with her three adult children, both indoors and out.