In 2018 I embarked on a journey with my dad that has changed my life forever. After 60 years of not knowing I had a half-sister, my father and I had the opportunity to meet her. Sure, it was scary… after all, I didn't know what to expect, but the joy of meeting her for the first time was incredible and it only took spending the day with her to know she would be a big part of my life forever. There was so much to learn about each other! It's a long story how we found each other, but the main motivator for my sister trying to find us was to learn about her own family health history. Fortunately, my 90-year-old dad keeps excellent health records, so my sister is now able to provide that information to her children and grandchildren…what a gift!
Keeping track of family history is more than just populating your family tree. You can learn a lot about your health by looking at your family's historical health. A complete family health history of both your mother's and father's sides of the family would include three generations of children, brothers and sisters, parents, aunts and uncles, nieces and nephews, grandparents, and cousins. The advantage of having family health information allows you and your physician to be proactive about the risk of specific health concerns that can help you and your immediate family avoid complications.
By knowing your family history, you have the advantage of identifying higher-than-usual chances of common disorders, such as heart disease, high blood pressure, stroke, certain cancers, and type 2 diabetes. Family history can also provide genetic information. Knowing this allows you to take steps to reduce your risk for specific health conditions. Certainly, having a family history of a disease does not mean that is your destiny; however, having the knowledge allows you to pay close attention.
The knowledge of your family history also allows you to provide that information to your health care providers, so they can determine if more frequent or earlier screenings are warranted. It allows you to be proactive in your day-to-day lifestyle by eating a healthier diet, getting regular exercise, quitting smoking, and making decisions about genetic testing.
The easiest way to collect information on your family's health history is to ask your relatives about health problems they may struggle with and when they began. For my sister, it wasn't that easy since the wonderful family that raised her did not share her genes, so it took some detective work. You can also collect documents such as death certificates to help complete your history. Many of the websites that help you build your family tree also collect documents that will help you to put your family health history together.
There are some great resources out there to help you in your quest for collecting family history and then knowing what to do with it. The CDC website has a great resource to help you learn more about what having a family health history for specific conditions means for you. The office of the U. S. Surgeon General also offers a computerized tool called My Family Health Portrait to help you create a family medical history. The American Medical Association also has information about collecting your family history, and the National Institute on Aging has suggestions on how to obtain an older person's medical history as well.
However, your family health history documentation doesn't need to be fancy – my dad keeps our family history in a three-ring binder! If you don't know about your family history, what better time to begin building this valuable tool for your family than Thanksgiving time, when we also celebrate National Family Health History Day? As most families are getting together, it's a great time to begin finding out about health issues and concerns. It isn't always easy to fill in all the gaps in family health history, but it is worth the effort. And as my sister will tell you, it is a gift.
---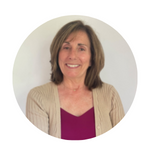 Cynthia Jones is a Wellness Strategy Manager for Vitality Group. Since lockdown, she has become a serious scone baker trying odd combinations of flavors. Cynthia has a BFA and enjoys drawing and watercolor. When the weather cooperates, you will find her either in her garden or bicycling, two of her favorite things.