With COVID mitigations coming to an end and drops in positivity rates, many offices, including Vitality, are reopening their doors and welcoming employees back.
Now facing the reality of the transition back to the office and the commute that may come along with it, many are experiencing anxiety and other concerns. While it's natural to view the journey of getting to the office as tedious or stressful, when you think of it instead as valuable time to yourself, it can actually be a great opportunity to get organized, be productive, and incorporate mindfulness into your day.
Some activities to consider:
Travel tunes: listening to your favorite music is sure to elicit some positive emotions, as well as some singing along the way. Queue up your playlist or create a new one. Turn up the volume and notice how it can instantly make you feel happy or reflect upon a fun memory associated with a particular song. Just don't forget your headphones if you're taking public transportation.
Podcasts: these days there are podcasts on everything and anything. Utilize your commute time to listen to an episode on a topic that interests you – see it as an opportunity to learn about a hobby, fine tune a new skill, or catch up on the latest research on a topic about which you would like to learn more.
Audio books: Audiobooks are a great way catch up on great material while keeping your eyes on the road. Maybe you would like to be a member of a book club and struggle to carve out time to read. Listening to an audio book gives you that opportunity to keep up with your favorite books while relaxing your mind at the same time.
Mindfulness and meditation: there are a wide variety of meditation apps, guided meditations and breathing exercises that can instantly soothe your mind and create a place of calm as you prepare to take on the workday once you arrive at the office. If you are taking public transportation, you can also use the time for self-reflection and journaling. Using your commute as an opportunity to focus on creating a sense of mental wellbeing can help keep stress at bay as you prepare for your workday or as you unwind on your way home.
Phone calls: catch up with a loved one or a friend that you may have not seen or spoken to in a while. Use your hands-free option if you're driving to safely chat while commuting. Even the shortest of conversations can go a long way in maintaining relationships and showing that you care.
Organize your to-do list: thinking about what lies ahead for the day can keep you organized and on-task so you can hit the ground running once you arrive at work and begin checking things off your list. This could be thinking through the priority items that you need to accomplish at work, the appointments that you might need to schedule, or what needs to be added to your grocery list.
Admire nature: if your commute starts in the early morning, take time to appreciate a beautiful sunrise and notice the surrounding scenery– mountains, lakes, clouds in the sky, and the sounds of birds chirping. Working late? Sunsets are beautiful as the day winds down. Rainstorms can cause traffic to slow, but magnificent rainbows can provide a bit of joy while stuck in traffic.
Incorporate physical activity: track additional steps into your workday by choosing a far parking space from your office building. If riding the bus or train, get off a few stops early and use that as an opportunity to power walk to your final destination.
For those of us that will continue to work remotely from home, you can still carve out time for these activities throughout your day. Think about incorporating some of these activities while you are driving kids to daycare, school, sports practices, or you are out and about running errands. You can also block time on your schedule for 15 or 20 minutes at the beginning of your day for your commute, which may be a morning walk or bike ride around your neighborhood. This is a great opportunity to spend time being active before you transition into work-from-home mode or transition at the end of the day when your workday is complete. You can even start your day with a quick trip to support your local businesses and grab a cup of coffee, visit your local bagel shop for breakfast or farmer's market for flowers to brighten up your workstation.
Whatever your commute may look like – short, long or no commute at all – incorporate some of these activities into your daily routine to start or end your day in a productive and mindful manner.
---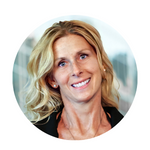 Janine is an Implementation Manager with Vitality. She holds a B.S. in Exercise Science/Sport Management from Rutgers University, as well as many certifications within the fitness and nutrition industry. She loves being a spectator at her daughters' athletic events, participating in water sport activities with her family, writing on sticky notes, over-consuming almond butter, and taking hot yoga classes. For relaxation, she enjoys baking, taking naps in hammocks, and listening to podcasts.