Traditionally, we think about New Year's resolutions with a focus on what we should be doing differently or how we can improve. Inevitably after a few months, we lose focus, and those resolutions get put on the back burner. But what if we took a different approach as we embark on a new year? What if we prepared for the New Year as we would prepare for a vacation? What will we bring with us?
The preparation for a vacation can be the reason it is successful and memorable, or the reason it is disappointing and regretful. When going on vacation, there are many ways different people approach their packing prep. These are the 2 most common:
The "what if I need that" vacation prepper: What if I need these shoes? What if there is an impromptu formal gathering? What if I don't have what I need? This "what if" vacation prepper inevitably burdens themselves with many bags, of which only a fraction of the contents will be utilized. This inevitably makes things more stressful, more cumbersome, more expensive, and makes this vacation prepper less able to adjust to itinerary changes. This can cause their vacation to be frustrating and less enjoyable; and what is a vacation for if not to be enjoyable?
The "less is more" vacation prepper: These individuals are ultra-minimalistic and strive to fit everything into a backpack or duffel. They go in with the notion of "if I don't have it, I don't need it – or I'll buy it when I'm there." They pack so little that they inevitably waste valuable vacation time shopping for the things they didn't pack (and that they already own at home) and usually pay a premium for them. Or, they go without and are inconvenienced, uncomfortable, or are unable to do all the things they would like to do. These individuals also have a less enjoyable vacation than they would have, had they just packed a few more items.
Both styles of vacation preppers are unable to bring home souvenirs from their travels due to little or no space in the bags they brought – or packed too tightly. Ideally, ending up somewhere in the middle – packing the absolute essentials with a few multi-use items and mix-and-match clothing you can layer – leads to being prepared for the trip you have planned while also allowing you the flexibility to make some on-the-fly adjustments.
Applying this analogy to the new year ahead, we should think critically about what we want to bring along with us. Taking stock of the things in our lives that cause us pain, joy, stress, fun, value, and frustration is a good place to start. These things can be physical, emotional, or situational and can take the form of activities, aspects of our home and professional lives and the people with which we associate.
Just like when we plan a vacation and we pack our most comfortable shoes and most versatile clothing, we want to bring with us that which will serve us the best. Planning the upcoming year with the same mindset, bringing only those things, activities, and people who bring us joy, value, and peace should be on our packing list for 2023. Conversely, thinking about what we aim to leave behind, limit, or deprioritize in 2023 will help to alleviate stress and frustration, and allow more room in our lives to add positive souvenirs – whether those be new experiences, new people, or new priorities – into the new year.
Best wishes from Vitality as you travel into the New Year! And don't forget to pack the things which bring you joy and leave some room in your bag for new and positive experiences.
---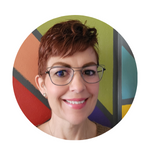 Melanie Roussell is Director, Client Relations and Agency Services and has been with Vitality for 8 years, with over 20 years in the employee benefits field. As a full-time remote Vitality employee in St. Petersburg, Florida, Melanie relocated from Chicago where she worked at Vitality's main office. When not working, Melanie spends her free time with family, friends, pets, many overly ambitious home projects, working with local animal rescues, and her pandemic-born obsession for mandala painting.