In 1972 in North Karelia, Finland, pork and dairy consumption were at record highs, butter was a dietary staple and tobacco use was widespread. The region was in crisis, with the highest rates of heart attacks in the world. Pekka Puska was the young physician tasked with solving the challenge. He confronted the population's health problems from multiple directions and shifted the focus away from individual responsibility to the role of the social and physical environment. One way he did this was by working with sausage makers to reduce salt and fat in the sausage supply. He pushed the boundaries of public health and achieved what most thought impossible – dramatic improvements in cardiovascular health on a population level.
The North Karelia experience was a first to demonstrate that concerted efforts at the community level, integrated with primary healthcare services and addressing multiple health risks, could achieve measurable and significant community-wide health improvements. Derek Yach, Executive Director of the Vitality Institute, saw the global impact of Pekka's work on non-communicable disease (NCD) prevention programs: "I experienced this first hand in South Africa when the CORIS project was established using North Karelia's approaches to reduce cardiovascular disease risks. Years later, when Pekka joined me at the World Health Organization (WHO) to establish the NCD cluster priorities, it was that same work that served as the basis for the UN High Level Meeting on NCDs and its recommendations – which are currently being implemented worldwide."
Insights from North Karelia have helped transform communities in the US too. Since 1970, Franklin County, Maine has seen several community efforts to improve population health involving multiple partners and integration between the community, worksites and health care providers. Forty years of data show significant improvements in hypertension and cholesterol control, smoking cessation rates and reductions in the cardiovascular mortality rate.
This scalable approach to NCD prevention lends itself to even greater impact by incorporating the private sector, which has much to gain by improving the health of its community – and hence its workforce – as well as innovating products to meet the demand for healthier goods and corporate responsibility. The public sector cannot solve these complex health problems alone and private-public partnerships can have a synergistic effect on the health of communities. Businesses can improve the effectiveness of workplace wellness programs by collaborating with local public health organizations on targeted health interventions that address the local NCD burden of communities and their talent pool. Developers can design spaces that promote healthy behaviors and access to healthy food. Retailers can remove deadly products from their shelves and food companies can reformulate products to improve population health.
Before embarking on the North Karelia project, Puska commented that "the whole system needed to change." This is still true today. We encourage companies to work with communities to understand local health needs and implement targeted solutions that support health and well-being for all. To this end, the Vitality Institute is working to engage businesses in workforce and community health promotion to improve the health of their employees, their dependents and communities – for enhanced health outcomes, productivity, recruitment and retention – and to enable effective and sustainable cross-sector collaborations for a maximal impact on population health.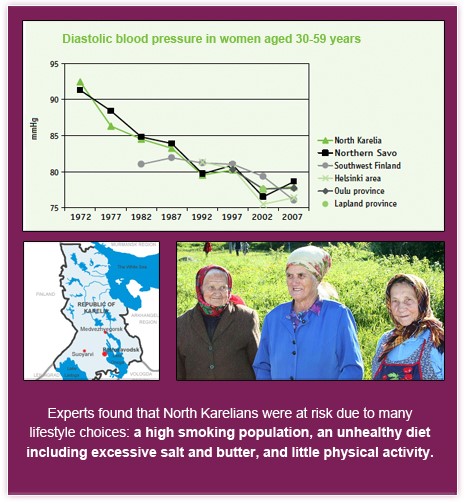 Is your business active in the community? Or do you know examples of businesses and communities working together? Let us know in the comment section below or by tagging us on Twitter @VitalityInst.
Sources of images: Karelia Health (graph) and National Heart, Lung and Blood Institute (thumbnail)