Seamless integration to make healthy choices a habit

100+ compatible wearables including Apple Watch Series 3

Verified data that creates lasting results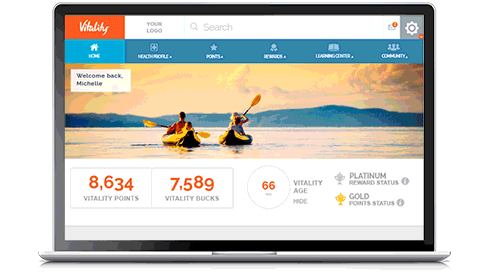 Digital Platform
From our responsive, intuitive website to our Vitality Today mobile app that easily syncs with wearable devices, Vitality makes it easy for members to engage with all of your health and wellness offerings.
Learn more about the power of Vitality
Member Journey
Our four-step approach maximizes successful, long-lasting results for both you and your members.
Many traditional health assessments focus solely on biometric screening, resulting in a very narrow understanding of an individual's health. With Vitality, the motivation for members to change their health behaviors begins with a personalized and contextualized view of their current health status.
Our proprietary Vitality Age assessment looks at 13 clinical and behavioral risk factors and converts them into a clinical risk-related age. In many cases, this reveals a number higher than the member's actual age, encouraging them to adjust poor lifestyle behaviors that could damage their long-term health.
Each member gets an individualized action plan that includes all the tools and resources they need to make healthier choices and achieve positive, long-lasting change. This commitment to meeting people where they are also helps ensure EEOC compliance.
Called Personal Pathways, these plans put members in control and allow them to address the health concerns most important to them. We give them the information they need to make smart decisions and support them in establishing their personal health through physical activity, smoking cessation, healthy eating and more.
A pioneer in wearable technology integration, Vitality integrates with a wide variety of wearables — 100+, including Apple Watch — so that members can choose the device that best fits their lifestyle. They can then easily track and verify their healthy activities through these devices and our network of gyms, grocery stores, and biometric screening partner.
As members engage, we offer a powerful way to track and reward them for healthy behavior. They receive Vitality Points based on their level of engagement, and these points can be immediately redeemed for a wide variety of incentives, including gift cards.
People want to be rewarded for their efforts — and immediacy is a big factor when deciding which effort is most worthwhile. That's why Vitality Points earned through Challenges and games can be instantly redeemed for rewards such as gift cards.
As members earn more points, they reach a higher Vitality Status. This not only allows them to unlock greater incentives; it also gives you an equitable and accurate measure of their engagement with your wellness program. Higher status is linked to lower healthcare costs and higher productivity.
Administrator Journey
We've designed our program so that we're your partner throughout your journey to building a culture of health in your organization.
Drawing on vast amounts of data and deep expertise, we establish a baseline for your organization's health and develop a strategy for maximum improvement. Your dedicated Implementation Manager and Wellness Strategy Manager ensure a smooth transition right from the start.
Your Wellness Strategy Manager helps craft a meaningful engagement strategy that's tailored to your organization's culture of well-being. In addition to providing templates for targeted communications and structuring fun challenges and campaigns, they also help train the program ambassadors, or Vitality Champs, you nominate from within your organization.
Each month, quarter and year, your Wellness Strategy Manager walks you through your program's reporting data to show you where risk factors have been reduced and identify opportunities for improvement. They then help you optimize your program to better align with your organization's goals and your overall engagement road map.
We help transform the culture of health within your organization by engaging members in a way that helps improve your bottom line. As your members commit to a healthier lifestyle and begin to reap the rewards it offers, you'll see fewer claims, shorter hospital stays, less absenteeism and improved productivity.